Summer '96 Flyer
[Our annual "Summer is here" flyer is going out to our mailing list this week. We've reproduced the stories and photos here for your viewing pleasure. If you'd like to be on our mailing list to receive flyers and postcards, send e-mail]
Hello From HELP!
Summer is here again (finally), and our schedule has filled up nicely. We want to tell you that for the fourth consecutive year, we've been booked at what has become our favorite show, the Sea Shell Stage at Hampton Beach, NH. And we couldn't be more excited because this year, in addition to a late July mid-week appearance, we'll be playing to what will no doubt be an over-packed house on July 6th (the Saturday night of the extended July 4th weekend) and August 31st (the Saturday night of Labor Day weekend). Throw in a few home town park shows, open up the schedule with Maynard's 125th anniversary celebration, and we're on our way! Hope to see all our friends at one show or another. As always, please stop up and say hi.

Oh yeah... one more thing. We'd like to announce that Phil and Donna have been promoted from "fan club" to "family" Congratulations, folks!
Back in the Groove
April 12, 1996 marked the premiere for a new and improved HELP! Back on the performance circuit after a layoff of over four months, the revised show features new bass player Watts Biggers, Jr.

Watts successfully passed his most difficult test to date and exorcised personal demons when he performed for the first time in the presence of founder and former bass player, Stu. [In a related and sad story, we've learned that a disoriented Stu was found beaten and sobbing in an alley after being viciously attacked by a group of deranged girl scouts. We wish him a speedy recovery.] Watts is fitting right in now, has already developed his own personal fan club, and is getting rave reviews for his incredible rendition of "Yesterday" and other McCartney classics.

Just last week, we performed for about 30,000 people (a few hundred at a time) near the end of the Boston AIDS Pledge Walk (Being for the Benefit of the AIDS Action Committee). One of the walkers came up to us after the show and enthusiastically commented "Ya' know, you guys" (meaning Paul and Watts) "sound just like Lennon and McCartney sometimes" This we found quite encouraging and we're thinking of actually trying to sound like Lennon and McCartney starting very soon. You'll just have to come to a show to find out when we start getting it right!

Don't forget to keep visiting our World Wide Web site (well, uh, thanks much for visitng our WWW site) at http://www.cornmuffin.com and also follow this link to find out how to send us email. We luv e-mail.
IRS Needs HELP!
HELP! was recently contacted by one of our favorite fans, the Internal Revenue Service. Seems they were looking for a certain deadbeat Dad musician with a history of playing in Beatles tribute bands. They were just wondering if we had any idea where this fella might be. "Nope, don't know him... haven't seen him" we replied, and that was the end of that cheery little conversation. For now...
HELP! Needs HELP!
Can you tune a guitar? Got a strong back, 'ave ya? Do you enjoy talking to your loved ones in a phony British accent? Are you looking for a new way to meet the babes (like, maybe the one pictured in the middle of this page)? Tired of paying the cover charge at HELP! shows?

If you answered "yes" to some, most, or even all of these questions, then we may have a job for you as the first official HELP! roadie! We're looking for one or two assistants to work with us on a permanent basis. In addition to the tasks mentioned so far, you'll help selling t-shirts, communicating with the sound man, guarding the dressing room, whatever it takes to make for a smooth performance.

We're mentioning this opening to our friends on the mailing list prior to offering it to the general public. We'd love to have a fanatic Beatles fan working with us, and we know you all fit that description! Give us a call or drop a line if you're interested.
New T-Shirts
Our brand new t-shirts will be available beginning at the June 15th show in Maynard. Based on themes from the HELP! album and CD covers, we think this one says it all! Get yours soon.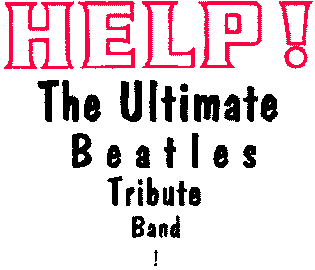 ---
Here's Paul's new boy, Marc, no relation to Marc in the band. Little Marc is shown here trying to be like his dad, although he's still having trouble with the words to "I Am The Walrus."
HELP! Gets A Haircut
With the change from Stu to Watts, we determined to improve not only the sound of the band, but the look as well. Accordingly, we made a pilgrimage to our new friend Stella (seen below at left, cutting Chris' hair) for a fresh set of haircuts in early April (astute observers will notice and be able to name all the Beatles photo albums open in front of Chris and Stella).

It took Stella the whole day of backbreaking physical labor, but in the end, we emerged with four new haircuts, all called "Arthur," except for Marc's (below right) which is "Charlie Hustle." Marc and Charlie are very close.


Copyright 1996, HELP! Reprinted by permission... we gave us permission... how else would we get 600 copies of this newsletter?